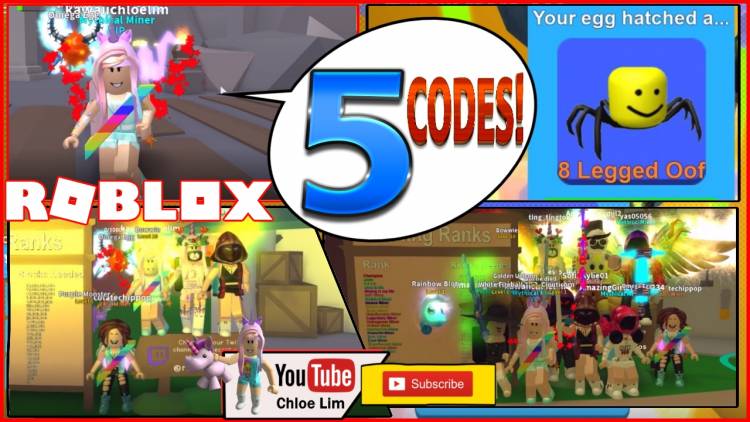 Roblox Mining Simulator Gamelog - September 23 2018
Code 1 : subscribepls
Code 2 : followus
Code 3 : newtwitch
Code 4 : toomanycodes
Code 5 : supertwitchcode - can be used when they go live on twitch!
-- Use these time point to skip to the section in the video:
0:01:39 Code Time!
0:03:50 Going to try to hatch some eggs!
0:04:11 I hatched the OOF SPIDER - 8 LEGGED OOF!
0:09:30 Screen shot with SPONGE BOB!
0:10:31 Getting a quest from the new Crystal Cavern World Obscure Entity!
0:13:14 Giving friends in the server some stuffs!
0:16:21 Opening some crates to try to get the Crystal Dominus!
0:19:25 Giving my friends some Mythical Hat Crates so that they can try to get the crystal dominus too!
--
Mining Simulator VIP SERVER
--
Chloe Roblox Store
(GET IT NOW)
If you liked my video please LIKE, SHARE and SUBSCRIBE ??? !!!
--
Roblox Mining Simulator by Runway Rumble
--
About Mining Simulator [????CRYSTALS]
Welcome to Mining Simulator. Team up with your friends, or go on a solo mining expedition to discover rare gems and become rich! Strike diamonds, become rich, travel to different worlds, collect pets, hats, and so much more!
???? CRYSTAL UPDATE ????
???? Crystal Cavern World - 20 Rebirths to enter
???? 12 NEW Blocks to Collect!
???? New Quest in the Crystal Cave
⬆️ Daily Rebirth Leaderboard!
???? Blocks Leaderboard CLOUT Badge (Be on Daily Blocks Mined Leaderboard after 12 hours)
???? Rebirth Leaderboard CLOUT Badge (Be on Daily Rebirth Leaderboard after 12 hours)
???? TWITCH EXCUSIVE ITEMS! (Follow our twitch to get codes, exclusive items, and more when we stream! https://www.twitch.tv/rumble_studios)
⛏️ New Tool (Crystal Blade)
???? New Backpack (Crystal Bucket)
???? 2 New Pets (Oof Spider, Twitchicorn)
???? New Hats (Twitch Dominus, Crystal Dominus)
Roblox Mining Simulator Created 2/13/2018, Updated 9/22/2018, Max Players 10, Genre All. (Online Multiplayer Game, #MiningSimulator)
--
Yesterday Gamelog
Roblox Find the Domos Gameplay! CUTE DOMO! See Desc for Location of Domos! LOUD WARNING!
- https://chloetuberchannel.blogspot.com/2018/09/roblox-find-domos-gameplay-cute-domo.html
Let me know in the comment what game you would like to see me play.
I Love you all Chloe Tubers!
Roblox Mining Simulator Gameplay / KawaiiChloeLim September 2018 Gamelog / #ChloeLim Channel / #MiningSimulator, #Roblox
Click Here to Visit