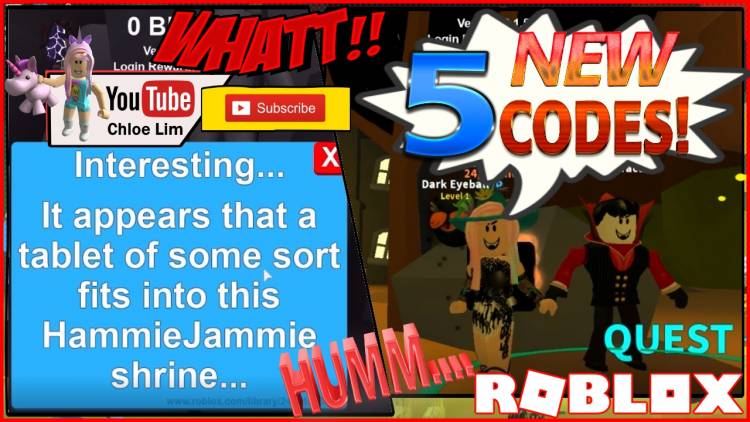 Roblox Mining Simulator Gamelog - October 21 2018
Code 1 : Skeletons
Code 2 : BroomSticks
Code 3 : Spoopy
Code 4 : Pumpkins
Code 5 : Scary
Twitch Codes: These codes are only redeemable when Rumble Studios is live on their Twitch streaming!
ICanFly (Twitch Wings)
CoolTwitchTexture (Twitch Skin)
EpicTwitchTrail (Twitch Trail)
TwitchMythical (Mythical Hat Crate)
TwitchLegendary (Legendary Egg)
Twitchier (Mythical Hat Crate)
Twitchy (Mythical Accessory Crate)
TonsOfTokens
TwitchTokens
SuperTwitchCode
TwitchTokens2
SecretTwitchCode
BigCoins
CommonEgg
JamiesCmmonEgg
CoolTwitchCodes
SpookyTwitchCode
TokenBonus
JamieLovesThese
JamieCanSing
ShinyCommonEgg
TwitchTokenBonus
SpoopyTwitchCode
AmazingTwitchCodes
-- Use these time point to skip to the section in the video:
0:00:19 Codes time!
0:03:08 Going to check on the last NPC quest!
0:03:36 Entering the secret cave found on the second NPC quest! Note if you have missed the first two NPC quest you can't enter!
0:05:11 Look at the bottom corner of the message! go to https://www.roblox.com/library/2498192367/8 for a clue!
0:09:25 Going back to spawn to see the new updates of the statues of the top players!
0:10:29 In Halloween world to check out the new quest giver - Count Dracula!
--
Mining Simulator VIP SERVER
-
--
Chloe Roblox Store
(GET IT NOW)
If you liked my video please LIKE, SHARE and SUBSCRIBE ??? !!!
--
Roblox Mining Simulator by Runway Rumble
--
About Mining Simulator [????SPOOKY????]
Welcome to Mining Simulator. Team up with your friends, or go on a solo mining expedition to discover rare gems and become rich! Strike diamonds, become rich, travel to different worlds, collect pets, hats, and so much more!
???? HALLOWEEN UPDATE 3/3 ????
???? New Count Dracula Quest (complete of his 12 quests for a reward)!
???? SECRET NPC QUEST 3/3
???? 2 New Pets (Dark Pumpkin, Noobicorn)
???? 7 New Hats
???? Candy Corn Chest
???? MEGA CANDY CORN RAIN (Lag the server)
???? Hall of Fame Statues (for top players)
Roblox Mining Simulator Created 2/12/2018, Updated 10/20/2018, Max Players 10, Genre All. (Online Multiplayer Game, #MiningSimulator)
--
Yesterday Gamelog
Roblox Darkenmoor Gameplay - Hallow's Eve Event 2018! Getting 4 Hallow's Eve Event Items! JUMP SCARES and Loud Warning!
- https://chloetuberchannel.blogspot.com/2018/10/roblox-darkenmoor-gameplay-hallows-eve.html
Let me know in the comment what game you would like to see me play.
I Love you all Chloe Tubers!
Roblox Mining Simulator Gameplay / KawaiiChloeLim October 2018 Gamelog / #ChloeLim Channel / #MiningSimulator, #Roblox
Click Here to Visit