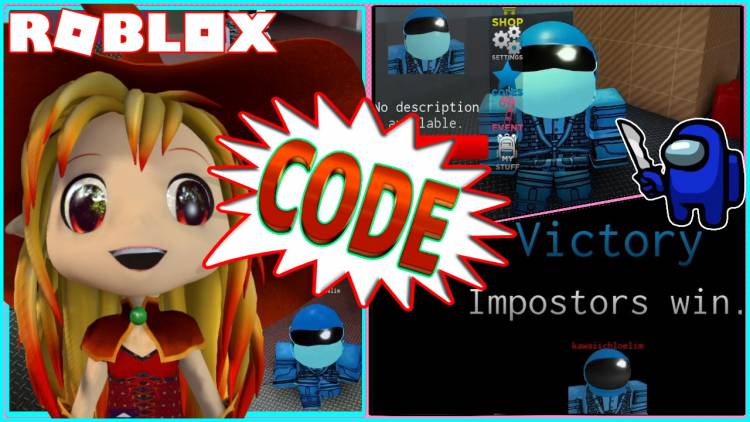 ROBLOX GAMEPLAY IMPOSTOR! CODE and WINNING AS THE LONE IMPOSTOR
In this video, I played Roblox Impostor! I have a code to share from the Holiday Update part 1 with a limited time Christmas Shop!
This game is a recreation of Among Us in Roblox! An online multiplayer social deduction game. The game takes place in a space-themed setting, in which players each take on one of two roles, most being Crewmates, and a predetermined number being Impostors.
The goal of the Crewmates is to identify the Impostors, eliminate them, and complete tasks around the map; the Impostors' goal is to covertly sabotage and kill the Crewmates before they complete all of their tasks. Players suspected to be Impostors may be eliminated via a plurality vote, which any player may initiate at any time. Crewmates win if all Impostors are eliminated or all tasks are completed; Imposters win if there is an equal number of Impostors and Crewmates, or if a critical sabotage goes unresolved.
IMPOSTOR: (Murderer) Sabotage and kill all crewmates secretly! Hide your tracks and use lies to avoid being voted out!
CREWMATE: (Innocent) Complete your tasks or vote out the Impostors to win! Help the other crewmates discover who the Impostor is!
-- Use these time point to skip to the section in the video:
0:01:17 Code Time!
0:01:42 Round 1 - Innocent!
0:02:19 I SAW GREY KILLED PURPLE!
0:04:15 I saw WHITE VENTED!
0:06:00 We won because all of them believed me!
0:06:50 Round 2 - I AM THE LONE IMPOSTOR!
0:07:36 I sabotaged the Oxygen!
0:08:38 Nobody fixed the Oxygen and I WON WITHOUT KILLING A SINGLE PERSON!
0:09:40 Round 3 - Innocent!
If you liked my video please LIKE, SHARE and SUBSCRIBE ??? !!!
-- Roblox Impostor [Beta] By ArcadeRockstar
-- About Impostor
❄️ Holiday update part 1 is here with a limited time Christmas shop! Part 2 coming soon, stay tuned...
???? Be an innocent crewmate and complete your tasks! Use your detective skills to find out who's up to no good!
???? Be an impostor and use lies and deception to murder your friends!
⭐ Play with friends in free private servers!
Controls:
Press E to interact with doors and tasks, or tap the interact button.
Press Tab to view the map.
Press C to crouch.
❗ SHUTDOWNS = UPDATES!
???? This game is in BETA join the communications server to stay updated and report bugs.
☁️ Inspired by Among Us.
Roblox Impostor Created 9/17/2020, Updated 12/2/2020, Max Players 10, Genre Sci-Fi. (Online Multiplayer Game, Impostor, Codes, Code, Roblox Impostor, Roblox Impostor Codes, Impostor Codes, Impostor Code, Among Us)
-- Yesterday Gamelog
- ROBLOX THE CRUSHER! Getting the RB BATTLES RETRO SURVIVOR BADGE - https://chloetuberchannel.blogspot.com/2020/12/roblox-crusher-getting-rb-battles-retro.html
Let me know in the comment what game you would like to see me play.
I Love you all Chloe Tubers!
Roblox Impostor Gameplay / Chloe Lim December 2020 Gamelog / #Impostor / #Code / #AmongUs
Click Here to Visit