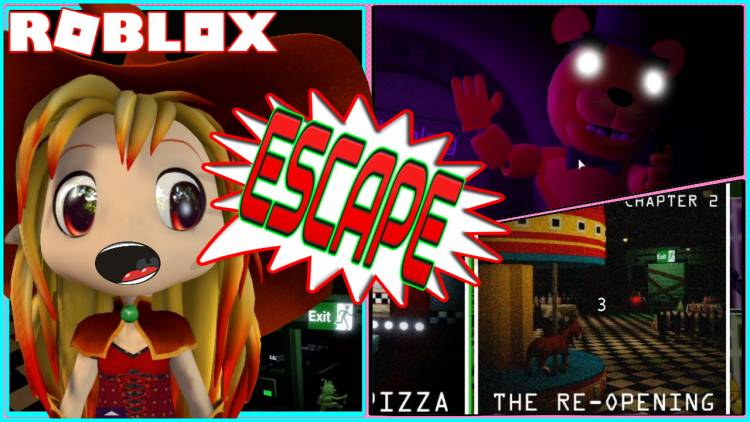 Roblox Freggy Gamelog - August 12 2020
In this video, I played Roblox Freggy! I will show you how to escape from the NEW CHAPTER 2 The Re-Opening Map! This is a Piggy inspired game based upon Five Nights At Freddy's. Instead of Piggy (Peppa Pig) it's Freddy character in this game! You have to find items and keys to unlock the Exit and Escape in time but In both maps there's two killer characters, one that will spawn soon after the game starts and one more locked up behind a wooden boarded area where you need to use a hammer to release it, Why would you release it, you ask, the reason is because there will be a very important item or key in the room that he is trapped in that you need for opening the exit and escape!
There's currently two chapters in this Freggy game, Chapter 1 - Freggy Pizza and the NEW Chapter 2 - The Re-Opening!
-- Use these time point to skip to the section in the video:
0:01:16 We spawned into a round - Freggy Pizza Chapter 1!
0:02:20 OOF the Player Freggy left the game!
0:02:39 Lets try the New Chapter 2 - The Re-Opening Map! I am choosing BOT because I do not want the Killer Freggy to leave the game AGAIN!!!
0:03:03 Loading in to the New Chapter 2 - The re-opening!
0:04:22 Orange key for Party Room 4!
0:04:55 Red key for the Prize Corner Room!
0:05:50 Yellow key for the safe at the Prize Corner Room!
0:06:00 The lever for this power switch in the sewer tunnel!
0:06:15 Now we are done with everything else! WE NEED TO RELEASE the other Killer Monster from Party Room 3!
0:07:05 Chocolate found the hammer to open up this scary room!
0:07:55 Found the green key in the party room 3!
0:08:12 We did it! We escaped the new Chapter 2 - The Re-Opening map!
0:08:59 Lets try Chapter 1 - Freggy Pizza map!
0:10:11 Oh there's a cheat you can do in the game, if you join back into the same server after you die and before everybody else dies, You get to spawn back into the GAME!
0:12:59 We only needed to open this safe for the EXIT door code and we can escape!
If you liked my video please LIKE, SHARE and SUBSCRIBE ??? !!!
-- Roblox Freggy CHAPTER 2 By FREGGY Studios
-- About Freggy
FREDDY NEW CHAPTER 2 is out! New animatronics, secret skin, new map and more!
What's new in this update?
- NEW CHAPTER
- New Animatronics
- Special Skin
- More.
Roblox Freggy Created 6/2/2020, Updated 8/9/2020, Max Players 6, Genre All. (Online Multiplayer Game, Freggy, Chapter 2, The Re-Opening, Escape)
-- Yesterday Gamelog
- ROBLOX ISLANDS! Making All POTIONS, ARTIFACT BOW and MORE - https://chloetuberchannel.blogspot.com/2020/08/roblox-islands-making-all-potions.html
Let me know in the comment what game you would like to see me play.
I Love you all Chloe Tubers!
Roblox Freggy Gameplay / Chloe Lim August 2020 Gamelog / #Freggy / #Chapter2 / #Escape
Click Here to Visit