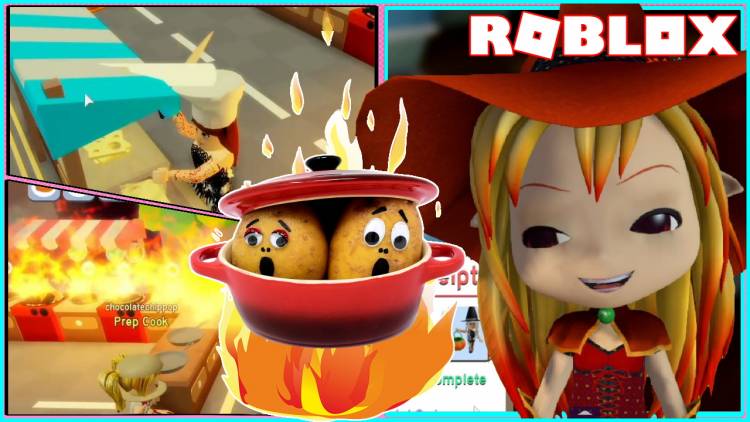 Roblox Dare to Cook Gamelog - November 04 2020
In this video, I played the Roblox Dare To Cook! We will be cooking or trying to cook in a very Chaotic Kitchen and sometimes we accidentally left the fire on and Cooked up a Fire storm! Do you Dare to Watch Us Cook? This is a fun but intense Roblox Cooking Game!
-- Use these time point to skip to the section in the video:
0:02:36 Jungle Broth - Soup Round!
0:05:48 My cooking job is too Stressful!
0:07:41 I ordered my crew to CHOP THE DISHES! LOL
0:08:37 My friend bubbly thought the potato was a bread!
0:09:06 Round 2 - Street Food - Burger Round!
0:09:43 Oh no our kitchen is on FIRE!
0:12:49 Round 3 - Salad Service - Salad Round!
0:19:00 Buying a crate in the lobby!
If you liked my video please LIKE, SHARE and SUBSCRIBE ??? !!!
-- Roblox Dare To Cook By DuoTale Studios
-- About Dare To Cook
Are you ready to begin cooking in the most chaotic kitchen out there? Do you Dare To Cook? ????????
❗❗ Note:
-This game may have bugs (which can be reported in-game)
-We are not responsible for any injuries or accidents that may happen in the kitchen
Roblox Dare To Cook Created 4/15/2018, Updated 2/21/2020, Max Players 15, Genre All. (Online Multiplayer Game, Dare To Cook, Cooking Game, Fire storm)
-- Yesterday Gamelog
- ROBLOX PROMO CODES! Roblox Code for WINTERY PEACOCK TAIL - https://chloetuberchannel.blogspot.com/2020/11/roblox-promo-codes-roblox-code-for.html
Let me know in the comment what game you would like to see me play.
I Love you all Chloe Tubers!
Roblox Dare To Cook Gameplay / Chloe Lim November 2020 Gamelog / #DareToCook / #CookingGame / #Cooking
Click Here to Visit