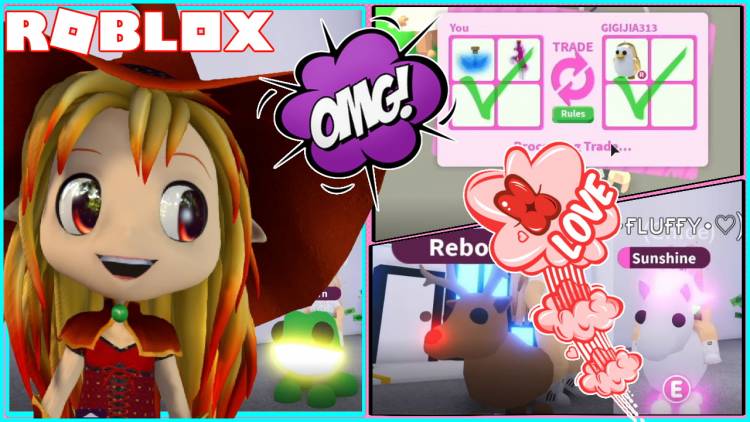 Roblox Adopt Me Gamelog - September 21 2020
In this video, I played Roblox Adopt Me! I Have flu and not feeling well enough to record with my voice so This Video will be a relaxing SCREAM FREE video of me trading Fly and Ride potion in Adopt me Roblox Game for many NEON Pets and GOLDEN Pets! I WILL RECOVER AND BE BACK SCREAMING AGAIN SOON!
-- Use these time point to skip to the section in the video:
0:00:51 Lets see what kind of trades I will get for ride or fly potions!
0:01:14 My first trade - two Aussie Eggs for a Koala!
0:01:55 No I can't do this trade - a ride potion for only a ride dog (Common) Sorry!
0:02:47 Second Trade - a Ride Potion for A Neon Shiba Inu, A Neon Monkey, a Drake and a Normal Shiba Inu!
0:04:11 Third Trade - A Ride potion for a Ride Frog, A Dingo, A puma and a Snow cat!
0:05:07 Fourth Trade - A Fly potion and an Aussie egg for a FLY RIDE Reindeer (no longer in game)!
0:05:34 Fifth Trade - A Ride Potion for a Bee and a Ginger Cat!
0:08:18 Sixth Trade - A Ride and Fly Potion for a RIDE GOLDEN PENGUIN!
If you liked my video please LIKE, SHARE and SUBSCRIBE ??? !!!
-- Roblox Adopt Me By DreamCraft
-- About Adopt Me
Raise and dress cute pets, decorate your house, and play with friends in the magical, family-friendly world of Adopt Me! on Roblox! ????????️????
Roblox Adopt Me Created 7/14/2017, Updated 9/14/2020, Max Players 48, Genre RPG. (Online Multiplayer Game, Adopt Me, Update, Trading, Ride Potion, Fly Potion, Neon Pet, Golden Pet)
-- Yesterday Gamelog
- ROBLOX ISLANDS FACTORY! How to GET COPPER, STEEL and FISH TANK DECO BLUEPRINTS - https://chloetuberchannel.blogspot.com/2020/09/roblox-islands-factory-how-to-get.html
Let me know in the comment what game you would like to see me play.
I Love you all Chloe Tubers!
Roblox Adopt Me Gameplay / Chloe Lim September 2020 Gamelog / #AdoptMe / #Trading / #Potion
Click Here to Visit